4 Years 11 Machines 14 Locations 100 Artists
30,000 Pieces of Art Sold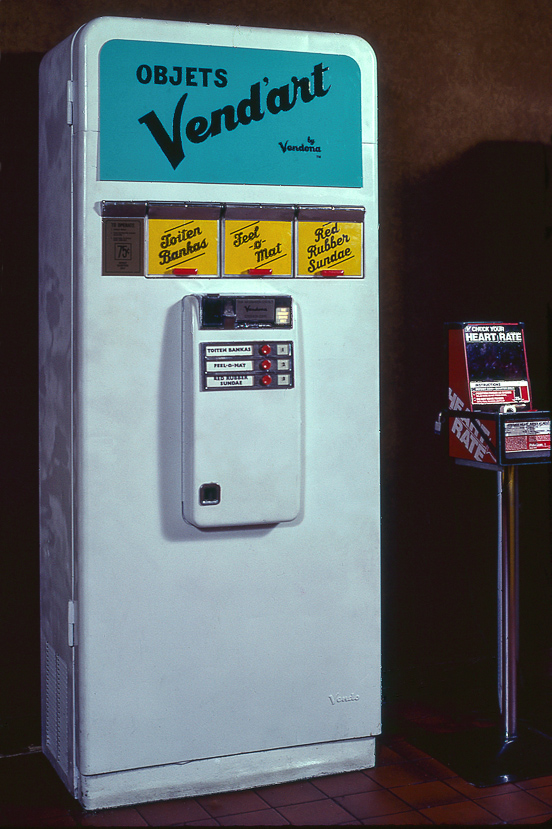 The Project Description
as written in 1985 and revised thru 1989
Objets Vendar'art by Vendona is a series of 1957 Vendo Ice Cream Vending machines which once dispensed ice cream, but now, for 75 cents to $3.00, distribute artworks. Conceived, designed and curated by Ona Lindquist, the machines have been installed in numerous locations since 1985, including museums, galleries, movie houses, retail clothing stores, and various other public and commercial spaces. Two machines are permanently located at the Quad Cinema in New York, with other machines on loan to sites in San Francisco, Los Angeles, Atlanta, Charleston and others. (see Note 1.)
Objets Vend'art operates on many levels: At first glance it looks like a simple and immediate metaphor for aesthetic consumption and 'art for the masses,' but on closer observation one sees that one has been drawn in and caught in a subtle rhetorical 'trap'. What one initially thought of as a straightforward transformation of a common icon of consumer society, i.e. the vending machine, to a work of sculpture, is on closer inspection a complex of aesthetic, social, political, and technological ironies. One way of looking at these machines is as a cross between Joseph Cornell and a classic Wurlitzer Jukebox; or even a cross between Marcel Duchamp and a slot machine.
Each machine has three doors, two of which contain artworks conceived and executed by Ona Lindquist, and a third door labelled "Artist of the Month", features a changing exhibition of local artist's work. The art work is produced not only by artists of international repute, but also by musicians, writers, doctors, scientists, among others. There is a rich interrelationship between the sculptural and performative aspects of these machines and the artworks they dispense: the constant revolution of exhibitions, locations, artists, etc., produces a maximum of inventiveness within relatively defined parameters. The objects have ranged from the pragmatic to the whimsical, and from the political and pedagogic to the conceptual.
Objets Vend'art has received substantial attention and media coverage, including reviews, radio interviews, and television spots. Public response has been rich and varied. The project touches upon a fascination with collecting (first editions, multiples, artworks) in conjunction with a fascination with automation and exchange (you give and you get, a kind of automatic potlatch). But in a very real sense, what is perhaps the most important aspect of Objets Vend'art, is that it serves as a vehicle or conduit which fosters a dialogue between artists and their works and the public, taking art out of the museum and putting it in the palm of the hand.
(Note 1. The above, is the verbatim 1985 project description distributed in the media package used throughout the project. In 1989 the project and all machines were discontinued.)
Special thanks to Allison Ritch and Hallie Coletta for the energy and devotion they brought to the project and to
Dr. Kenneth Weinberg whose unflinching support allowed Vend'art to be all it could be. The only limitations were mine.
This archival memoir would not have been possible without my dear friend and collaborator Tim O. Walker.